Alinea Prices
Alinea is a Chicago-based restaurant that was established in 2005 by innovative and modernist chef Grant Achatz and his brilliant business partner, Nick Kokonas. With a tasting menu consisting of 18 to 22 courses, diners will be left in a curious state of fascination as each meal is presented in a dramatic way they have never seen coming.
Here's a list of Alinea menu prices:
Food
Price

Alinea's Main Menu

Starting $210 to $275 per person

Steelhead Roe
$210 & up
King Crab
$210 & up
Razor Clam
$210 & up
Scallop
$210 & up
Burn Morels
$210 & up
Lamb
$210 & up
Squab
$210 & up
Ginger
$210 & up
Balloon
$210 & up
Oyster Leaf
$210 & up
Lobster
$210 & up
Woolly Pig
$210 & up
Otoro
$210 & up
Hot Potato
$210 & up
Black Truffle
$210 & up
Anjou Pear
$210 & up
Blueberry
$210 & up
White Chocolate
$210 & up
History
Chef Achatz is known for his uniqueness and peculiarity but wonderful fascination with molecular gastronomy. From strands of seaweeds perched artfully on top of a driftwood to a leaf that tastes like an oyster freshly caught from the sea, the dining experience in this restaurant is anything but ordinary.
Besides the modernist culinary experience, this one-of-a-kind restaurant has been gathering awards since the year it was opened. It has been recognized as one of The S. Pellegrino World's 50 Best Restaurants, awarded The Acqua Panna Best Restaurant in North America, and was a consistent recipient of the Best Service Award.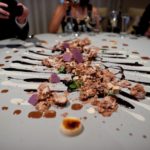 On top of these recognition and awards, Alinea is the only Chicago restaurant that received a 3-Star Michelin rating, a prestigious and legitimate award that is given to a fine dining restaurant that showed mastery and quality of technique, food preparation, and cuisine.
Being one of the highly decorated restaurants, not only in the United State but all over the globe, Alinea defines sophistication and luxury in its well-presented cuisine. It's various unusual yet fresh ideas, like taking tickets instead of a complicated reservation process, makes it one of the best restaurants to bring a loved one or someone you wish to impress.
There is no dull moment when dining at Alinea and for that, it truly deserves to be named as one of the world's outstanding restaurants ever established.
For more information about this restaurant, feel free to visit their official website.
Last Updated: January 7, 2020 5:04 pm