Capital Grille Prices
The Capital Grille is an upscale American steakhouse originally founded by Edward Grace III in Rhode Island in 1990. Now with several locations all-over the United States including the country's state Washington, DC, the renowned restaurant was able to generate millions in its yearly sales even during a time where the recession is prominent and ongoing.
Here's a list of Capital Grille menu prices:
Food
Cost

Appetizers and Soups

Clam Chowder (cup)
$9.00
Clam Chowder (bowl)
$11.00
French Onion Soup (cup)
$8.00
French Onion Soup (bowl)
$10.00
Shrimp Cocktail (5)
$15.00
Pan-Fried Calamari with Hot Cherry Peppers
$14.00

Salads

Wedge with Bleu Cheese and Applewood Smoked Bacon
$12.00
Maine Lobster Salad
$19.00
Fresh Mozzarella, Tomato, Basil with 15-Year Ages Balsamic
$13.00
Mediterranean Salad with Marinated Chicken
$16.00
Caesar Salad with Roasted Chicken Breast and a Parmesan Tuile
$17.00
Chopped Salad with Chilled Shrimp
$18.00
Seared Salmon with Avocado, Mango and Tomato Salad
$17.00
The Capital Grille "Cobb" Salad with Sliced Tenderloin
$19.00

Sandwiches

The Grille's Signature Cheeseburger
$17.00
Lobster and Crab Burger with House Tartar Sauce
$19.00
Ribeye Steak Sandwich with Caramelized Onions and Havarti
$19.00

Plates 18

Clam Chowder
Arugula, Watermelon Salad with Feta
Field Greens Salad

Entrees

Bone-In Dry Ages Sirloin Steak (14oz)
$26.00
Filet Mignon (8oz)
$28.00
Seared Citrus Glazed Salmon
$19.00
Sushi-Grade Sesame Seared Tuna with Gingered Rice
$29.00
Chilean Sea Bass with Heirloom Tomatoes and Saffron Tomato Broth
$27.00
Seared Halibut with Roasted Artichoke, Potatoes, Corn and Mustard Vinaigrette
$26.00
Sliced Filed Mignon with Cipollini Onions and Wild Mushrooms
$31.00

Refreshments

Housemade Grapefruit Soda
$3.50
Fresh Squeezed Mint Lemonade
$3.50
Fresh Brewed Iced Tea, Carafe of Simple Syrup
$3.50

Glass of White

Hess Collection, Napa, Chardonnay, 2011
$13.00
Greg Norman, Eden, Australia, Chardonnay, 2012
$11.00
Indaba, South Africa, Chardonnay, 2012
$8.00
La Cana, Rias Baixas, Albarino, 2012
$12.00
SeaGlass, Santa Barbara, Sauvignon Blanc, 2011
$10.00
Kim Crawford, Marlborough, NZ, Sauvignon Blanc, 2012
$9.00
Terrazze Della Luna, Trentino, Pinot Grigio, 2012
$10.00
Santa Julia, Mendoza, Argentina, Pinot Grigio, 2012
$8.00
Ponzi Oregon, Pinot Gris, 2012
$10.00
Selbach, Mosel, Riesling, Qba, 2011
$9.00
Montevina, Amador, County, White Zinfandel, 2012
$6.00

Glass of Red

Arrowood, Sonoma, Cabernet Sauvignon, 2011
$21.00
Justin, Paso Robles, Cabernet Sauvignon, 2011
$13.00
H3, Horse Heaven Hills, WA, Cabernet Sauvignon, 2010
$13.00
Louis Martini, Sonoma, Cabernet Sauvignon, 2011
$9.00
Belle Glos, Meiomi, Sonoma/Monterey/Santa Barbara, Pinot Noir, 2012
$15.00
Mark West, California, Pinot Noir, 2012
$8.00
Cryptic, California, Zin/Cab/Petite Sirah, 2011
$11.00
Chateau Ste. Michelle Columbia Valley, Merlot, 2011
$11.00
Catena, Vista Flores, Mendoza, Malbec, 2010
$10.00
Edmeades, Mendocino, Zinfandel, 2010
$10.00
Ferarri-Carano, Siena, Sonoma, Sangiovese/Malbec, 2010
$9.00
Colby, California, Cab/Zin/Shiraz/Merlot/Pettite Sirah, 2011
$8.00

Capital Grille Reservations:
History
In 2007, Darden Restaurants acquired The Capital Grille and the popular group was able to make the dining experience even more comfortably elegant for customers.
With exquisite African theme art décor, complete with magnificent chandeliers and breathtaking ambiance, The Capital Grille is slowly taking the fine dining scene with a standing ovation from critics and diners alike.
Besides their passion for sophistication, The Capital Grille is known for serving exceptionally created dry-aged steaks. With their menu philosophy of only using the finest, freshest, and exquisite produce, they were able to masterfully create meals that are worthy of praises and adoration.
Their unique and meticulous dry aging process may be the key to producing incomparable taste and texture.
The extensive menu shows only the best and most appetizing array of dishes that s the epitome of class and refined experience.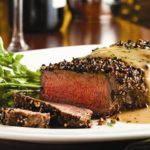 From the Steak Tartare, Dungeness Crab Cocktail as appetizers to the Bone-in Kona Crusted Dry-aged New York Strip to the classic Filet Mignon, every meal is extremely imagined and well-prepared.
Wine pairing is also an art The Capital Grille has been accustomed to. With fantastic and knowledgeable Master Sommeliers like George Miliotes, diners are guaranteed the best wine experience money can buy whenever they dine in this one-of-a-kind restaurant.
From Napa's Cakebread Chardonnay to complement a plate of Citrus Glazed Salmon to the oaky taste of Franciscan Cabernet Sauvignon to pair with the porterhouse, this restaurant's symphony of food is the main event every diner is waiting for.
For more information about this restaurant, feel free to visit their official website.
Last Updated: January 7, 2020 5:02 pm