Chama Gaucha Prices
The tradition of cooking great steak began centuries ago, when Europeans migrated to Southern Brazil. The cowboys brought cattle herds to roam in the fertile plains of the region and would gather around the fire while grilling and eating steak for dinner. Keeping traditions alive, Chama Gaucha prices its menu to let guests enjoy succulent cuts of meat.
Here's a list of Chama Gaucha menu prices:
Item
Cost

Lunch Buffet

Business Casual Attire Recommended

Monday-Friday (11:30am-2:00pm)
$26.00

Dinner Buffet

Monday-Thursday (5:00pm-10:00pm)
$46.00
Friday (5:00pm-10:00pm)
$46.00
Saturday (4:00pm-10:00pm)
$46.00
Sunday (1:00pm-9:00pm)
$46.00

Chama Gaucha Reservations:
History
The core of every genuine Brazilian steakhouse is in the flame, or the 'chama.' This core also describes the desire and hunger of Brazilian cowboys or the 'gauchos' for their culture and tradition. This heritage was the inspiration of Chama Gaucha.
You will love the ambience of their restaurants. They are warm and cozy, and perfect for meeting with friends, family or business acquaintances. Newer additions include Chama Gaucha lunch menu with lots of delicious options for a power lunch during the work week.
Order your drinks or go to their bar to sample the taste of smooth wine. Their wines and drinks are meticulously selected to compliment your hearty meals. Also, Chama Gaucha prices its drinks competitively to give you a great pairing with your steak.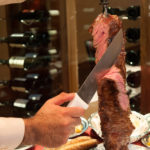 And of course, their steaks are something that will truly whet your appetites. Savor the smell and the juicy taste of their Picanha, a prime cut sirloin and a house specialty; Ribeye, their crowd pleaser; Filet Mignon e Frango, for this you can choose between filet wrapped in bacon or chicken breast; Fraldinha, the bottom sirloin that will overwhelm your taste buds; Costela, which is beef rib with marbling to enhance the texture and flavor; the juicy and tender Filet Mignon; Porco, the succulent pork ribs or the loins sprinkled with parmesan; Frango e Linguica, the marinated pork sausage or chicken drumsticks; and Cordeiro, the lamb leg seasoned to perfection. Chama Gaucha lunch menu usually has most of these cuts available but please check directly with your local restaurant to confirm.
For more information, please visit their official website.
Summary
Reviewer
Review Date
Reviewed Item
Author Rating
Last Updated: April 14, 2017 11:05 pm