Mod Pizza Prices
Enjoy a Unique Experience at MOD Pizza
MOD, or 'Made on Demand,' is a pizza company that was founded in 2008 by Scott and Ally Svenson. They are the same people behind Seattle Coffee Company and Carluccio's Ltd.
Here's a list of Mod Pizza menu prices:
Food
Price

Build Your Own Pizza

Mini Mod 6"
$4.87
Mod Pizza 11"
$7.87
Mega Mod Double 11" Crusts
$10.87
Modd Pizza Salad
$9.87

Build Your Own Salad

Mini Salad
$4.87
Mod Salad
$7.87
Mega Salad
$10.87
Mod Pizza Salad
$9.87

Specialty Pizzas and Salads

Maddy (Small)
$4.87
Maddy (Medium)
$6.37
Maddy (Large)
$10.87
Mad Dog (Small)
$4.87
Mad Dog (Medium)
$7.87
Mad Dog (Large)
$10.87
Tristan (Small)
$4.87
Tristan (Medium)
$7.87
Tristan (Large)
$10.87
Dominic (Small)
$4.87
Dominic (Medium)
$7.87
Dominic (Large)
$10.87
Lucy Sunshine (Small)
$4.87
Lucy Sunshine (Medium)
$7.87
Lucy Sunshine (Large)
$10.87
Jasper (Small)
$4.87
Jasper (Medium)
$7.87
Jasper (Large)
$10.87
Dillon James (Small)
$4.87
Dillon James (Medium)
$7.87
Dillon James (Large)
$10.87
Calexico (Small)
$4.87
Calexico (Medium)
$7.87
Calexico (Large)
$10.87
Caspian (Small)
$4.87
Caspian (Medium)
$7.87
Caspian (Large)
$10.87
Caesar Salad
$7.87
Deluxe Salad
$7.87

Other Stuff

Garlic Strips
$2.97
Cinnamon Strips
$2.97

Milkshakes

Chocolate Milkshake
$3.57
Strawberry Milkshake
$3.57
Vanilla Milkshake
$3.57
Float
$2.57

Drinks

Fountain Drink
$1.97
Boylans
$2.77
San Pellegrino
$2.77
Pellegrino
$2.47
Fanta Bottle
$2.77
Coke Bottle
$2.77
Milk
$1.47
Chocolate Milk
$1.47
Water
$1.47
The inspiration for MOD Pizza was the need to deliver fast, affordable, and healthy meals for the family. Currently, they have more than 90 properties in the United States, with plans of opening other stores abroad. In 2015, they raised millions of dollars to fund a national growth strategy.
You can order pizzas and salads in the following sizes: Mini, MOD, and Mega. If you order the pizza or salad, you can choose the toppings that you want to include, as well as the amount of toppings, but the cost will stay the same. If you're not sure what you like, don't worry because they can recommend combinations.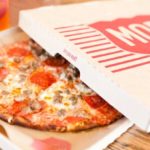 Their pizzas also use organic dough (from King Arthur Flour) to add to its nutritional value, and you can watch as they prepare your pizza. It will then be baked for three minutes in a pizza oven at 800 degrees. To enjoy your food better, you can order beer, wine, fountain drinks, and hand-spun milkshakes.
The restaurant designs and locally inspired. It has a functional and simple vibe that is totally family friendly. Other than providing a great experience to their customers, they also make sure that they take care of their employees, as well as give back to the community. The awards they received include:
Top 7 on the list of 20 Best Places to Work in Retail in 2015 by Fortune magazine
Community Impact Award for 'Job Creation and Workplace Development' in 2015 by Seattle Business Magazine
Stars Award for Best Employer by FEAT Reach
You can also be a part of their pizza family through franchising. Check their website to see how.
Last Updated: January 7, 2020 5:04 pm