Morton's Steakhouse Prices
Morton's Steakhouse Prices
In 1978, Arnie Morton and Klaus Fritsch opened the first Morton's Steakhouse in Newberry Plaza in Downtown Chicago. Since then, Morton's has steadily established a reputation for the best steaks in town and grown to 74 locations. Morton's Steakhouse prices hit the sweet spot for the quality of steak and seafood that is served.
Here's a full list of Morton's Steakhouse menu prices:
Food
Cost

Appetizers

Ahi Tuna Tower
$19.00
Maine Lobster Cocktail
$23.50
Jumbo Lump Crabmeat Cocktail
$19.50
Jumbo Shrimp Cocktail
$23.00
Broiled Sea Scallops
$21.50
Short Rib Steak Tacos
$14.00
1/2 Dozen Oysters On The Half-Shell
$19.50
Oysters Rockefeller
$19.50
Jumbo Lump Crab Cake
$19.50
Jumbo Shrimp Alexander
$21.00
Prosciutto Wrapped Mozzarella
$15.00
Baked Escargot
$13.00
Tuna Tacos
$15.00

Marton's Prime Ocean Platters

Chilled
$27.00/person
Baked
$26.00/person

Soups & Salads

Baked Five Onion Soup
$14.00
Lobster Bisque
$17.00
Center-Cut Iceberg
$15.00
Caesar Salad
$13.00
Morton's Salad
$13.00
Sliced Beefsteak Tomato & Onion
$13.50
Sliced Beefsteak Tomato & Blue Cheese
$13.50
Chopped House Salad
$14.50
Chopped Spinach Salad
$12.50
Bibb Lettuce Salad
$12.50

Prime Steaks & Chops

Center-Cut Filet Mignon (12oz.)
$56.00
Center-Cut Filet Mignon (8oz.)
$51.00
Center-Cut Filet Mignon (6oz.)
$45.00
Signature Cut Prime New York Strip (16oz.)
$60.00
Center-Cut Prime Ribeye (16oz.)
$51.00
Chicago Style Prime Bone-In Ribeye (22oz.)
$60.00
Double Porterhouse For Two (48oz.)
$125.00
Porterhouse Steak (24oz.)
$64.00
Cajun Ribeye Steak
$54.00
Five Peppercorn Rubbed Prime Strip Steak (16oz.)
$63.00
Bone-In Veal Chop (16oz.)
$55.00
Double-Cut Rib Lamb Chops
$52.00
Double-Cut Prime Pork Chop (16oz.)
$34.00

Upgrades 5

Make Any Steak "Oscar Style"
$13.00

Signature Dishes

Chicken Christopher
$34.00
Chicken Bianco
$29.00
Honey-Chili Glazed Salmon Fillet
$39.00
Braised Beef Short Rib
$38.00
Shrimp Scampi Capellini
$30.00
Beef Short Rib & Sea Scallop "Surf & Turf"
$41.00
Shrimp Alexander
$43.00
Jumbo Lump Crab Cakes
$39.00
Baked Stuffed Jumbo Shrimp
$39.00
Chilean Sea Bass A La Nage
$46.00
Cold Water Lobster Tail (8oz.)
$49.00
Alaska King Crab Legs
Market Price
Whole Baked Maine Lobsters (2lbs. & up)
Market Price

Mixed Grills 50

A 6oz. Filet Mignon With 3 Grilled Shrimp & 2 Bacon Wrapped Scallops
$50.00
Filet Of Fresh Salmon Topped With Jumbo Lump Crabmeat With 3 Grilled Shrimp & 2 Baked Stuffed Shrimp
$50.00
A Jumbo Lump Crab Cake With 3 Grilled Jumbo Shrimp & 2 Shrimp Alexander
$50.00

Side Dishes For Sharing

Sautéed Broccoli Florets
$13.00
Jumbo Asparagus
$13.00
Creamed Spinach
$13.00
Creamed Corn
$13.00
Sautéed Brussels Sprouts
$13.00
Sautéed Spinach & Button Mushrooms
$13.00
Bacon & Onion Macaroni & Cheese
$13.00
Onion Rings
$13.00

Potatoes For Sharing

Jumbo Baked Potato
$13.00
Lyonnaise Potatoes
$13.00
Sour Cream Mashed Potatoes
$13.00
Chicago Style Horseradish Mashed Potatoes
$13.00
"Twice Baked" Au Gratin Potatoes
$13.00
Parmesan & truffle Matchstick Fries
$13.00
Hashed Brown Potatoes
$13.00

Morton's Steakhouse Reservations:
Morton's Steakhouse Cuts
The best part about perusing Morton's Steakhouse menu is picking from the succulent cuts that have made this steakhouse a fan favorite. Whether you prefer the richness of a ribeye or the texture of a filet, Morton's menu always delivers. The following are some of the most popular steakhouse cuts at Morton's.
Center-Cut Prime Ribeye – This is a 16oz beauty that is a steak lovers delight. Cooked to perfection, the fat melts in your mouth and reminds you why the ribeye is often the most ordered item on the Morton's Steakhouse menu.
Center-Cut Filet Mignon – Usually available in an 8oz or 12oz, this is your classic filet mignon cut with all the texture and flavor you expect. Morton's Steakhouse prices this cut on the higher side but it is the complete package.
Porterhouse – Enter the 24oz Porterhouse steak. This is one of the more popular entrees on the Morton's menu and its hard not to see why. The steak is juicy and always hot, giving you the full flavor you expect from a porterhouse.
While these are some of the favorites, Morton's Steakhouse has quite a few others cuts such as the Cajun Ribeye, the Chicago-Style Prime Bone-in Ribeye as well as some incredible pork chops.
Morton's Steakhouse Appetizers
As is often the case at top-notch steakhouses, the appetizers on the Morton's Steakhouse menu features some amazing seafood options that are sure to awaken the taste buds. Some of the best seafood appetizers are below:
Ahi Tuna Tower – When there are entire websites dedicated to replicating the recipe of an appetizer, you know you are doing it right. This is a tower of ahi tuna, mango and avocado, with a splash of sauce that is absolutely delightful. Morton's Steakhouse prices this appetizer to share which makes it one of the most popular menu items.
Jumbo Lump Crab Cake – For the crab lovers out there, these crab cakes offer a punch with very little filler and almost all delicious crab. While this is priced on the higher side for the number of crab cakes you get, the meat is delicious and sets you up for an amazing steak dinner.
Baked Escargot – A somewhat unusual addition to the appetizer menu is the baked escargot. Normally a pretentious dish for the genuine steak lover, this escargot creation deserves mention. Garlicky goodness that balances perfectly with the meat and butter, this is truly the way to do escargot even if you are not usually a fan.
While we only listed out three appetizers here, Morton's Steakhouse has some incredible options such as the jumbo shrimp cocktail, the oysters and the tuna tacos that are sure to keep patrons coming back.
History
Currently, Morton's Steakhouse has more than 74 restaurants in the United States and abroad, like Canada, China, Hong Kong, Mexico, Singapore, and Taiwan.
Morton's Steakhouse has also cemented its place in sports history. Events such as 'Lunch with a Legend' series by ESPN as well as 'Celebrity Server' events are hugely popular. Some of the celebrities invited at their restaurants were: Dwayne Wade, Dick Vermeil, Bobby Hull, Tony Stewart, Derrick Rose, Elgin Baylor, Larry Fitzgerald, Jack Nicklaus, Jonathan Vilma, Jim Furyk, and many more.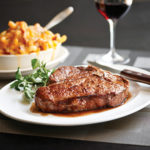 Their restaurants are perfect for private dining. They offer guests an alternative and ensure that the dining experiences of the guests is something to remember. Morton's steakhouse prices its private events differently so be sure to call and check.
Whether you're having breakfast, lunch, or dinner with family or business partners, their quality of service will never fail you. Some of their most popular dishes include the delicious USDA prime-aged steak, mouth-watering appetizers, and scrumptious desserts. Morton's steakhouse menu also includes seasonal specialties so you can always find something new and delicious. While you're there, make sure to browse their award winning wine list to find the perfect pairing.
To make a reservation, simply go to their website. You can fill out the reservation field to indicate the restaurant location, date, time, and party number.
Summary
Reviewer
Review Date
Reviewed Item
Morton's Steakhouse Prices
Author Rating
Last Updated: April 14, 2017 11:05 pm