Peter Luger Prices
Exclusive Peter Luger Prices 
The first Peter Luger Steak House was established more than a hundred years ago—the year was 1887. Originally 'Carl Luger's Café, Billiards and Bowling Alley,' it was bought for $35,000 by Sol Forman in the 1950's and Peter Luger prices from that time are somewhat still visible in memorabilia.
Here's a list of current Peter Luger menu prices:
Food
Cost

Daily Luncheon Specials (Until 3:45 P.M.)

Monday

Pot Roast
$16.95
Chopped Steak USDA Prime
$15.95

Tuesday

Roast Prime Ribs Of Beef USDA Prime
$30.50
Filet Of Sole
$21.95
Chopped Steak USDA Prime
$15.95

Wednesday

Roast Prime Ribs Of Beef USDA Prime
$30.50
Chicken Homestyle
$18.95
Chopped Steak USDA Prime
$15.95

Thursday

Roast Prime Ribs Of Beef USDA Prime
$30.50
Chopped Steak USDA Prime
$15.95

Friday

Roast Prime Ribs Of Beef USDA Prime
$30.50
Filet Of Sole
$21.95
Chopped Steak
$15.95

Saturday

Chopped Steak USDA Prime
$15.95

Available Daily To Order

Steak, Small Sirloin, USDA Prime With French Fries
$24.50
Lamb Double Thick Chop Split
$24.50
Salmon, Grilled, With Potato and Vegetable
$18.95
Luger-Burger, Over 1/2 lb. on Bun
$14.95
Luger-Burger, Over 1/2 lb. on Bun with French Fries
$18.90
Luger-Burger, Over 1/2 lb. on Bun with Cheese
$16.45
Luger-Burger, Over 1/2 lb. on Bun with Bacon
$19.56

Family Selected, Dry Aged

Steak For Two
$99.95
Steak For
$149.95
Steak For
$199.90
Single Steak
$49.95
Rib Steak
$53.95
Lamb Chops, 2 Double Thick Loin Chops
$47.95
Grilled Atlantic Salmon
$26.95
Filet Of Sole
$27.95

Appetizers

Sliced Tomato, With Luger's Own Sauce (for 2)
$14.95
Sliced Tomato & Onions, With Luger's Own Sauce (for 2)
$14.95
Luger's Sizzling Bacon, Extra Thick, By The Slice
$4.50
Caesar Salad, Grated Pecorino Romano
$12.95
Iceberg Wedge Salad, Chopped Tomato, Bacon, Crumbled Blue Cheese
$14.95
Mixed Green Salad
$9.95

With Choice of Homemade Dressing

Russian
$0.75
Vinaigrette
$0.75
Garlic French
$0.75
Blue Cheese
$0.75
Extra Crumbled Blue Cheese
$5.95
Chopped Bacon
$4.95
Jumbo Shrimp Cocktail (4)
Market Price
Jumbo Shrimp Cocktail, Extra Large Portion (6)
Market Price
Lamb, Double Thick Chop Split
$47.95

Vegetables

French Fried Potatoes (for 1)
$6.95
French Fried Potatoes (for 2)
$10.95
Luger's Special German Fried Potatoes (for 2)
$11.95
Baked Oversized Potato with Sour Cream (as available)
$5.25
Fresh Broccoli (for 2)
$7.95
Creamed Spinach (for 2)
$8.95
Onion Rings (for 2)
$9.95

Desserts

Served With Homemade "Schlag" (whipped cream)

Apple Strudel
$11.95
Chocolate Mousse
$11.95
Key Lime Pie
$11.95
Ice Cream
$11.95
Cheese Cake
$11.95
Fruit Tarts
$11.95
Pecan Pie
$11.95
Sorbet
$11.95

Peter Luger Reservations:
Peter Luger Cuts
Peter Luger menu is the exception amongst most steakhouses in that you are pretty much only looking at two options for cuts. You can either get the Porterhouse or the Rib Steak for between 1-4 people. A lot of people may not like the idea of only having two choices but if you can make it as delicious as they do, you wouldn't complain either. That being said, two is on the lighter side, in this writer's humble opinion.
Porterhouse Steak – This is one serious piece of meat that is often sized by the number of people in the party. The steak is dry aged and cooked to perfection. The presentation is top notch as the steak is often served in sizzling butter and is pre-sliced for larger groups. The crust was perfect and the marbling was just right to make for a delicious experience. Pro tip would be to go no more than medium rare to let the flavor really shine.
Rib Steak – The other cut that is crowd favoriate is the rib steak which is basically a ribeye. The cut is tender, juicy and moist and when cooked medium or rare, really lets the juices shine. There is no fancy sauce or sides to take away from the experience. Peter Luger prices its menu in a way that larger groups often get a better deal on the best cuts.
All in all, the steak "purist" will appreciate the no-nonsense decor, the simple and straightforward menu and the the focus on the meat. For those looking for a little more sizzle with the steak, Peter Luger's menu might leave you a little disappointed.
Peter Luger Menu Sides
One of the areas that Peter Luger really shines is their sides. Normally, I would focus on the appetizers to compare steakhouses, but the sides at Peter Luger deserve special mention. The following is a curated list of the best sides at this revered joint.
German Fried Potatoes – One of the more traditional and oh-so delicous sides here is the fried potatoes. These are whole potatoes chopped up into small squares and then baked and fried. When mixed with onions and salt, this adds the perfect starch to your protein.
Bacon – This can be ordered as a side or appetizer and is as good as it sounds. Fresh bacon that is thickly sliced with the perfect seasoning to start off your steak adventure. Peter Luger prices this appetizer reasonably so everyone gets to enjoy their own.
Creamed Spinach – This is another one of those traditional offerings that has put Peter Luger on the map. Their spinach is fresh and not too creamy to overpower the steak. It has a unique flavor that some may not like but goes great with any of the cuts.
History
Forman, a loyal customer for 25 years, was the owner of the metal giftware factory from across Luger's, and he bought the restaurant because he needed a place for his clients. Years later, because of the four stars awarded by critic Craig Clairborne, it amassed a huge number of faithful following.
For 30 years in a row, Peter Luger was named by Zagat Survey as the best steakhouse in NYC. It was also included in the 'America's Classics' list by the James Beard Foundation in 2002. Because of its popularity, it was able to receive esteemed guests like Jerry Seinfeld, Robert De Niro, Johnny Carson, James Cagney, Chuck Schumer, Alfred Hitchcock, Jackie Gleason, Elizabeth Taylor, David Paterson, Pete Sampras, and Henry Kissinger.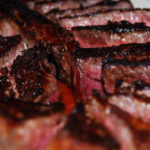 Currently, they have two locations: one in Brooklyn and one in Great Neck, New York. Their Brooklyn property is famous for its long wooden bar, burnished oak wainscoting, weathered beer-hall tables, brass chandeliers, and exposed wooden beams.
From their menu, you can find pot roast, chopped steak, roast prime ribs, filet of sole, home-style chicken, small sirloin, lamb, and salmon, among others. They also have appetizers, salads, and desserts. And from their stores, you can buy t-shirts, cutting boards, steak knives, salt and pepper shakers, steak sauce, gift certificates, USDA prime dry aged steaks, and extra-thick cut bacon.
For inquiries about their locations or banquet reservations, you can check their website or call their numbers.
Last Updated: April 14, 2017 11:05 pm